Stove Repair Services in London
Same Day Stove and Cooktop Repair Services in London
Avoid the hassle of a non-functional stove! Let Max Appliance Repair handle all your issues with our same-day service. Our experts are available for any make or model and ready to serve London's surrounding areas. Don't let inferior cooking performance put a damper on dinnertime – Contact our experienced team at (226) 840-6671 now to restore order and put the heat back into cooking again! to get started!
Why Choose Us For Your Stove Repair:
Our local technicians are highly-skilled offers superior repair services for all kinds of household appliances.
Our same day repairs guarantee a rapid resolution with fully equipped vans to ensure speedy solutions.
We prioritize client satisfaction above all else, offering top-tier expertise without spending much.
Delight your taste buds with fresh meals cooked to perfection. Get reliable and lasting stove repairs in London from Max Appliance Repair – the perfect choice for restoring any broken appliance!
Privately Owned Appliance Repair Company
Our family-run business takes the needs of our clients seriously, providing high-quality appliance repairs that are completed in just one visit. We understand how important your appliances and budget constraints can be, so we strive to make sure our services meet both criteria each time.
Same Day Stove Repair Services
Max Appliance Repair is the quickest way to get your broken stove back on track – no more struggling with malfunctioning appliances or having to order take-out due to costly and inconvenient delays! Benefit from fast, high quality repairs by trained experts today.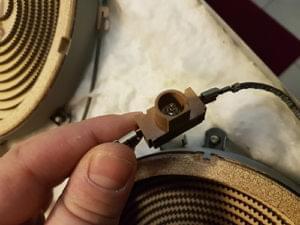 Experts You Can Trust
You can trust our experienced technicians to repair your broken stove. We work hard to provide you with quality service with the highest level of precision by ensuring that each device is treated with care and respect while providing comprehensive stove repairs. With us on the job, you know it's in good hands!
Most Common Stove Problems
Common stove repair issues can include malfunctioning burners, a broken oven door, or an issue with the temperature regulation. Stove repairs may also involve replacing the igniter, modifying or replacing the heating elements, dealing with wiring problems and performing regular maintenance such as cleaning out grease buildup or changing gas lines. Ignoring any of these common stove repair problems may lead to larger issues in the future, so it's important to address them as soon as possible. Contact us today if you're having any recurring issues with your stove – our team is here to help!
You are unable to adjust the heat on your unit
The knobs are broken
The coils are not heating
The coils are damaged or are loose
The electric supply is not working properly
Stove burner won't heat
Stove can't maintain temperature
For reliable, effective repairs, trust a professional technician – the best way to ensure your safety.
Call our stove repair technicians today: (226) 840-6671
Stove Brands We Can Repair
Our team is well-experienced in all kinds of stove repair and can work on any leading brands, including Electrolux, Frigidaire, GE, Kitchenaid, Maytag, Samsung and Whirlpool. No matter what kind of problem you are having with your stove – be it a broken door or a malfunctioning burner – our technicians will be able to provide you with honest advice and reliable service. Give us a call in case you are looking for the following brand appliances repair services.
We Repair Appliances All Across London
Our same day service all across London means that you don't need to deal with long wait times or high prices.
Stove Repair Questions
When your stove needs repairs, you are bound to have a few questions. Here are some of the most commonly asked questions and answers to help set your mind at ease.